openSUSE
openSUSE is a free and Linux-based operating system for PC, Laptop or Server. The openSUSE project is a community program sponsored by Novell. It is a general purpose operating system built on top of the Linux kernel, developed by the community-supported openSUSE Project and sponsored by SUSE and a number of other companies.
Promoting the use of Linux everywhere, this program provides free, easy access to openSUSE, a complete Linux distribution. The openSUSE project has three main goals: make openSUSE the easiest Linux for anyone to obtain and the most widely used Linux distribution; leverage open source collaboration to make openSUSE the world's most usable Linux distribution and desktop environment for new and experienced Linux users; dramatically simplify and open the development and packaging processes to make openSUSE the platform of choice for Linux developers and software vendors.
openSUSE supports a number of popular desktop environments, including GNOME and KDE. You can surf the web, manage your e-mails and photos, do office work, play videos or music and have a lot of fun!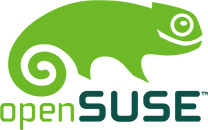 openSUSE 42.3 Leap
VirtualBox (VDI) 64bit Download Size: 1.48GB

SHA256: 553eb83573deebcd86f60fc92ab6cacbccae9a117f3d6d9515a37652718435a8
VMware (VMDK) 64bit Download Size: 1.49GB

SHA256: 72ff81ad544d35ccc080b272f9267780a656d84757a417aa94f2124f3dc8cff1
Username: osboxes
Password: osboxes.org
Root Account Password: osboxes.org
VB Guest Additions & VMware Tools: Not Installed
VMware Compatibility: Version 10+
openSUSE Tumbleweed 201708
VirtualBox (VDI) 64bit Download

SHA256: 56fc7e0b032c49632e2c0bd05f72167f25ba1010942fdf9d0d999d909be35bce
VMware (VMDK) 64bit Download

SHA256: 8119d180d7286344f2c46c6c84879e95e0f183194fc9b51eefcae1ec5427626e
Username: osboxes
Password: osboxes.org
Root Account Password: osboxes.org
VB Guest Additions & VMware Tools: Not Installed
VMware Compatibility: Version 10+
openSUSE 13.2
Username: osboxes
Password: osboxes.org
Root Account Password: osboxes.org
VB Guest Additions & VMware Tools: Not Installed
VMware Compatibility: Version 12+